Image

Is Your Lawn Dug Up, Brown, Or Spongy?
Get Expert Grub Prevention and Control for a Green Lawn
Family And Pet-friendly
Grub Control in North Texas
Grubs are beetle larvae that bury themselves underground and feed on grass roots. They tear up your lawn and can attract wildlife like raccoons, moles, and birds that do even more damage. As the grubs mature into beetles, they'll reproduce and create even more grubs. To save your lawn, trust our grub control. We eliminate these pests at their source, stopping the cycle and giving you long-term protection.
Signs of a grub problem include:
Grass that feels spongy when you walk on it.
Sections of your lawn that can easily be rolled back like a rug.
Areas that won't green up, no matter how much you water and fertilize.
Seeing white, C-shaped insects on your property.
Eliminate and Prevent Grubs Quickly
To properly control grubs and save your property's grass so you continue to look professional to your customers, you'll need our professional grub prevention. When your company partners with LawnLab, we will:
Apply a preventative that eliminates grubs before they can hatch.
Target existing infestations with quality products.
Stop scavenging animals from causing more damage as they hunt for grubs.
Make your property a beautiful, inviting place for everyone to enjoy.
Grub Prevention and Control
Controlling an Existing Grub Problem
If your lawn is already showing signs of being under attack by grubs, don't fret. We have the tools and training to take your yard back, so you can enjoy lush, green, and full grass once more.
Waiting for the grubs to go away won't work. In the cold weather, they dig deeper into the soil to survive the temperatures and simply emerge once more in the fall. Although you can manage the problem later, it's best to kill the grubs before they hatch each fall. So, instead of waiting until parts of your lawn start dying, take preventative action now!
Our expert team will formulate a plan to keep the grubs out of your lawn. We can apply a spread that will act as a barrier against both beetles and grubs, so you don't need to worry about your lawn becoming a nesting ground for these pests. Rest easy knowing you have knowledgeable experts taking care of your grub control for lawns.
Our Guarantee
Should your lawn issue persist in between scheduled treatments, simply let us know and we'll re-service for no additional cost to you. That's our guarantee to you!
Image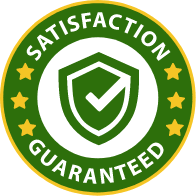 WHERE WE SERVE
Looking for a Grub Control Service Near You?
We provide grub treatment services in the following cities and towns in North Texas:
Image